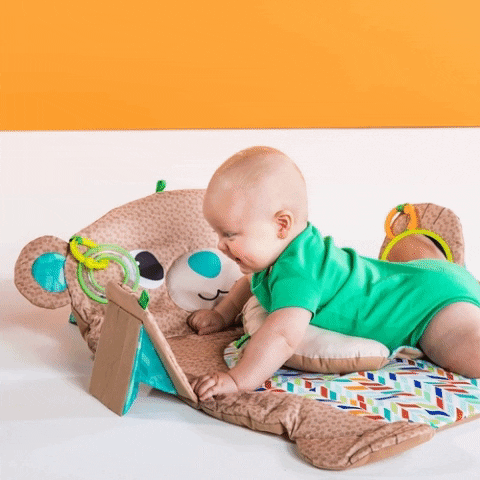 ---
Bright Starts Tummy Time Prop & Play Activity Mat - Teddy Bear Infant Baby New
---
Description
Made for big bear hugs and creature comforts
Props up to help make tummy time easier
Includes matching prop pillow for additional support
Fits well in small spaces and when traveling
Baby-safe mirror, rattle and toy attachments
Features
Plush and padded, this grizzly bear mat offers support for all your baby's wiggles and kicks. The sweet matching prop pillow gives baby a lift as she learns to push up during those first few months. Little loops of satin Taggies surrounding the play mat will give your baby extra entertainment and comfort. Baby can also explore crinkle sounds, rattles and other toy attachments. Make tummy time even easier by propping up the grizzly bear's head to bring the toys within reach. The propped up paws features a baby-safe mirror to engage baby and encourage head movements from left to right. Made to fit well in small spaces, you can bring this mat along when traveling for creature comforts wherever you are!
---
Shipping Details
---
We only ship to the lower 48 states and do not combine shipping or offer local pickup. We do NOT ship to PO Boxes or APO?S. We offer a 30 days return policy on this product.
---
Payment Policy
---
We accept only PayPal. Please note that PayPal also allows us to accept credit cards.
If you have any questions or wish to discuss payment options, please contact us.